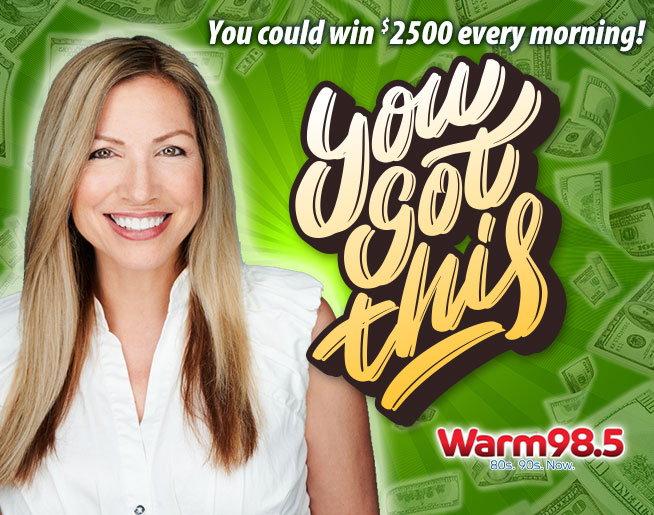 Warm 98.5 has your shot at $2,500 every weekday morning with "You Got This!"
Listen to Amanda during the 7am hour for your cue to call in and play. FIgure out all five of Amanda's riddles correctly to score all that cash!
The first person with the right answer to each riddle wins $100 immediately–but remember, you have to have the answers to ALL FIVE questions in order to win the big money!
The questions will test your noodle and cannot be found on Google! So let's see if "You Got This"…7:20 weekdays on Warm 98.5!

WRONG GUESSES
11/7/2022 dogs
11/8/2022 The Proctor & Gamble GO towers downtown
11/9/2022 Blue Frog
11/10/2022 The Twin Towers in NYC
11/14/2022 Aaron Judge going to The Twins
11/15/2022 Hansel and Gretel
11/16/2022 The 'Doublemint' Twins
11/17/2022 Siblings
11/18/2022 Cats
weekend
11/21/2022 Thanksgiving
11/22/2022 Chess Game
11/28/2022 Roundabouts
Hint: Drop the zero and give me an Italian hero!
Congratulations to Kathy Hackney! She picked up $100 for figuring out the answer to Riddle #1!
11/29/2022 No guess for Riddle #2
11/30/2022 Gazuntite
12/1/2022 The Alice Restaurant
12/5/2022 No Game ( Amanda out)
12/6/2022 No Game ( Amanda out)
12/7/2022 Contestant did not know Riddle 1
12/8/2022 No Game Radiothon
12/9/2022 Riddle 2: The Krohn Conservatory
12/12/2022 Didn't get to question 2
12/13/2022 Nutcracker (riddle 2 guess)
12/14/2022 Didn't get to question 2
12/15/2022 The Shakespeare Company
12/16/2022 Didn't make it to question 2
12/19/2022 Didn't make it to question 2
12/20/2022 The Delta Queen ( riddle 2 guess)
12/21/2022 The Cincinnati Childrens Theater (riddle 2)
01/03/2023 Allergies/pollen
01/04/2023 No Game – Tribute to Brian Demay
01/05/2023 Music Hall
01/09/2023 A handkerchief
01/10/2023 Queencity Riverboats
1/11/2023 Otto M. Budig Theater
1/12/2023 Showboat Magestic
1/13/2023
Hint: WHEN IT COMES TO A PERSON, PLACE, OR THING, THIS IS NOT A PLACE.
1/17/2023 A blessing
1/18/2023 Aaron Judge going to the Twins
1/19/2023 pixie dust
1/20/2023 a crown
1/30/2023 A new name
1/31/2023 The Common Cold
2/1/2023 No Game today
2/2/23 Didn't know riddle #1 answer
2/3/23 A bouquet of Flowers
2/6/23 A pardon
2/7/23 A patient in a dentist chair
2/8/23 Money
2/9/23 Etiquette
2/10/23 Freedom
2/13/23 The Tyler Davidson Statue
2/14/23 pepper
2/15/20 A wish
2/16/23 A Mid Summer's Night Dream
2/17/23 Gold
2/20/23 President's Day – No Game
2/21/23 An Audience
2/23/23 NO Game
2/22/23 NO Game
2/23/23 NO Game
HINT#2 BEFRIEND YOUR QUEENS
UPDATE: ESPECIALLY THE LAST
2/27/23 a Sword
2/28/23 Keep Calm and Carry On
3/1/23 Honey from a beehive
3/2/23 getting Knighted
3/3/23 a Tiara
3/6/23 a dandelion
3/7/23 The gift of a song
3/8/23 Mean Girls
3/9/23 A royal nod of the head
UPDATE TO HINT #2: ESPECIALLY THE LAST
3/13/23 The charitable events hosted by the Drag Queens of Cincinnati
3/14/23 a game of chess
3/15/23 A lady in waiting for Queen ELizabeth
3/16/23 Arianna Grande
3/17/23 Congratulations to Teri and Marilu who guessed the correct answer to Riddle #2 and take home $100 on this St. Paddy's Day! Hope you were listening and wrote it down along with Riddle #3 which they did not guess correctly.
3/20/23 Congratulations to Krista for figuring out Riddle #3!!! She gets $100!
Riddle #4
3/20/23 The Fountain at Fountain Square
3/21/23 The sunset
3/22/23 Player did not know answer to first riddle.