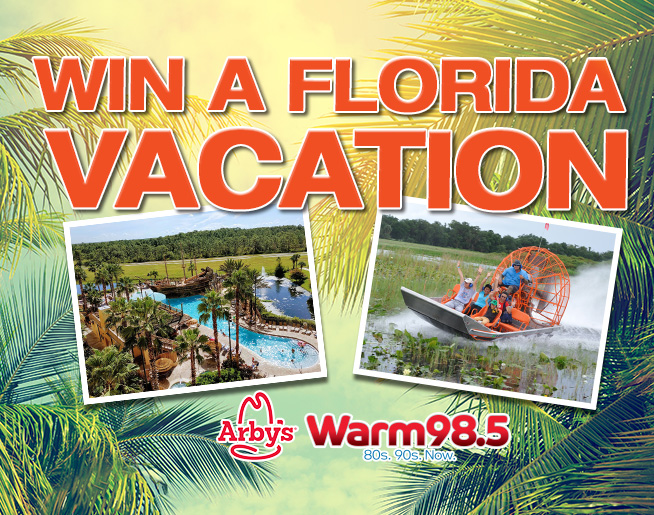 So far, we've had three winners in the "Florida Song of the Day" contest sponsored by Arby's, and we will choose our final winner on Friday, December 2nd around 9am.
There is NO Song of the Day contest on Thanksgiving 11/24/22 or Black Friday, 11/25, but it returns on Monday, November 28th; and to make sure you get in on the winning, we've got the songs to finish out the contest right here!
| | | |
| --- | --- | --- |
| Monday, November 28 | Within the 10:00 a.m. hour | Frosty the Showman by the Beach Boys |
| Tuesday, November 29 | Within the 5:00 p.m. hour | Merry Christmas Happy Holidays by N'SYNC |
| Wednesday, November 30 | Within the 8:00 a.m. hour | Wizards in Winter by TSO |
| Thursday, December 1 | Within the 3:00 pm hour | White Christmas by the Drifters |
Remember, the final trip to Orlando for a family of four is Friday, 12/2, around 10am. If Amanda calls your name, you'll have 9 minutes and 85 seconds to call back and claim the trip!
Warm 98.5 and Arby's could send you on a sunshine-filled family vacation to Orlando with the "Florida Song of the Day!" Get qualified to win a 3-night vacation to Lake Buena Vista Resort Village and Spa! These multi-bedroom condo-style suites will give your family room to spread out and relax after a long day filled with outdoor activities, like taking the family on a glide through the central Florida everglades at Boggy Creek Airboat Adventures! This incredible vacation for four also includes round-trip flights and a rental car so that you can explore all of central Florida. It's time to see how Orlando shines!