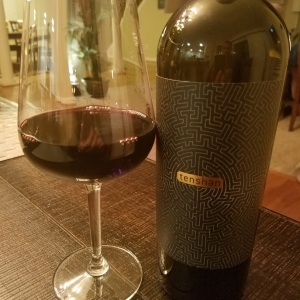 There are days when you're eating light, and a big red wine just doesn't go with that salad, or sushi, that you're having. And then, there are days when a big, bold red wine with zing is just what the doctor ordered. That's what you get with Tenshen, a delicious red blend from winemaker Joey Tensley, who has a reputation for big Syrah-based wines out of Santa Barbara,
Tenshen is an interesting wine, because the blend changes year to year based on the quality of the grapes being harvested. Tensley aims to make the best wine possible, at an affordable price, and in my humble opinion, he is 100% on-point. Tenshen has been favorably compared to another Napa blend, The Prisoner, which is a monster-seller, but goes for twice the price! You can find Tenshen for under $25 everywhere, and often right at $20 on sale.
This blend is anchored by Syrah, but includes Petite Sirah, Grenache and Merlot. Pull the cork and you'll notice nice aromas of strawberry and raisin, with a hint of tea. This wine is a little hot, nearly 16% alcohol, but on cold days that's what I want. Really robust plum and cherry flavors, a little fig, with a mouth-drying cocoa finish, and more plum on the finish. This wine is the real deal, and got Wine Spectator's "Editor's Choice" award and a 92 point rating.
---
On my five-cork scale based on taste and value, the 2015 Tenshen Red Wine gets 3.75 corks! As California wines go, $25 is a great price, but it's a bit pricey for most to be an every day wine, so I had to knock down my ratings a bit, but flavorwise? You're going to love this wine.
If you'd like to try interesting wines like this, please join me at our next private wine party at Sorrento's Norwood Italian! I host a wine dinner there every month, and we feature several interesting wines, each paired with a delicious course. There are always cool prizes to win, too, so listen Wednesday at 4:15 to win your spot on the guest list, or click here for a chance to win!