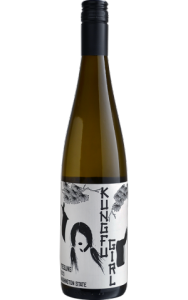 I am a big fan of German Riesling, from the Mosel River Valley. It is, in my opinion, the best example of what Riesling should be, and almost a miracle, when you consider how far north the vineyards lie! Thanks to south-facing vineyards which are extremely steep, and angled to catch every ray of sun, grapes are produced which have a clarity of flavor that is unmatched. Historically, American Rieslings have lagged in quality, with sweeter and lighter flavor profiles; but those norms are changing.
Let me introduce you to a crisp white wine with a cool label: Kung Fu Girl Riesling!
Here is another exceptional value from Washington State, patterned after the best Rieslings in the world, with really nice aromas of pineapple, honey, ginger and lemon, and bold flavors of pineapple, granny smith apple and red grapefruit. The powerful fruit is balanced by a mouth-watering acidity and mineral finish that gives this wine a structure that belies the price.
For two years running this has been one of Wine Spectator's Top 100 wines – and it comes in at #46 in the World this year. For around $13 a bottle, this is another win for Charles Smith Wines!
---
On my five-cork scale based on taste and value, I give the 2015 Kung Fu Girl Riesling 4 corks! This is a really nice wine for the money.
If you'd like to try interesting wines like this, please join me at our next private wine party at Matt the Miller's Tavern! I host a wine dinner there every month, and we feature several interesting wines, each paired with a delicious course. There are always cool prizes to win, too, so listen Wednesday at 4:15 to win your spot on the guest list, or click here for a chance to win!