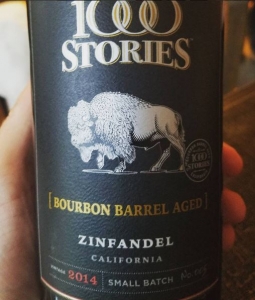 Welcome to the newest trend in wine and beer: bourbon barrel aging. The idea behind this trend is simple: most red wines are aged in oak barrels, why not in charred bourbon barrels, for a more interesting flavor? To be clear, no whiskey is being added to the wine, they are just aging the juice in re-purposed barrels that had been used to age bourbon whiskey in the past. I have tasted several wines lately that tried this approach, but this was by far my favorite.
1000 Stories takes Zinfandel grapes from California's Mendocino, Dry Creek Valley, Lodi and Colusa County regions, and blends
it with Syrah and Petite Sirah, then ages it for 6 months first in French and American oak barrels, then in bourbon barrels. The result?
Bold flavors of raspberry jam, raisin and fig, with a delicious spicy finish. Throughout each sip is a smoky quality which is very unique; definitely something different to try tonight with dinner! This wine is a winner, and can be found everywhere for around $16 a bottle, and sometimes less on sale.
---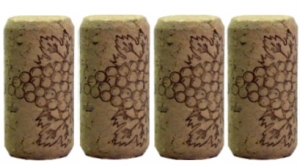 On my five-cork scale based on taste and value, the 2015 1000 Stories Zinfandel gets 4 corks!
If you'd like to try interesting wines like this, please join me at our next private wine party at Ferrari's Little Italy! I host a wine dinner there every month, and we feature several interesting wines, each paired with a delicious course. There are always cool prizes to win, too, so listen Wednesday at 4:15 to win your spot on the guest list, or click here for a chance to win!