It had been a few years since I tried the MacMurray Estates Pinot Noir. I had given the 2013 very high marks – would the 2015 be as good? The answer: a resounding YES. Before my tasting notes, some background.
In 1941 actor Fred MacMurray (he of My Three Sons fame) bought some land north of San Francisco, and raised cattle. After he passed, his children knew what valuable property the "MacMurray Ranch" had become, smack-dab in California's famed Russian River Valley, so daughter Kate started MacMurray Estate Vineyards, which now makes Chardonnay, Pinot Gris, and Pinot Noir.
Pinot Noir is a temperamental, thin-skinned grape, which can yield tremendous flavor in the hands of expert winemakers, or lifeless drizzle otherwise. What's great about a good Pinot is it's light enough for salmon, but complex enough to hold up to richer meats. If you're ever in a pinch at a restaurant wondering what to order for your group at a restaurant, you can usually win by picking Pinot Noir; it tends to make everyone happy.
So what about this particular Pinot, the 2015 MacMurray Russian River Pinot Noir?
One word: YUM!
I like a "beefier" Pinot, and this one delivers with aromas of coffee and ripe cherry, and robust flavors of juicy raspberry, balanced with a nice, dry finish.
---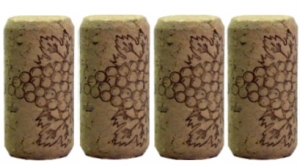 On my five-cork scale based on taste and value, the 2015 MacMurray Russian River Pinot Noir gets 4 corks!
Note: you can find Central Coast (CA) Pinot for around $13 a bottle, but those are NOT as good. Find the Russian River Valley bottles. They are a little bit more expensive but are, by far, better wine. Sometimes you need to pay a few dollars more to get a superior product.