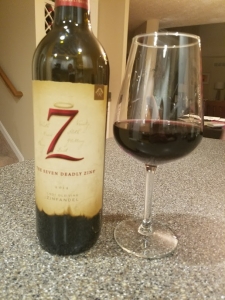 I have a weakness for Michael David wines. Year after year, they are of consistent quality and deliciousness, whether it's the previously reviewed Petite Petit, the Freakshow cabernet and red blends, or this week's featured wine: 7 Deadly Zins.
When I first started trying Michael David wines, I thought there was just one genius winemaker named Michael David with an eye for interesting wine labels. Instead, there are two – brothers Michael and David Phillips, who represent the fifth generation of growers in Lodi, cultivating grapes for over a century. That kind of history, even during the Prohibition years, is rare.
7 Deadly Zins is a rich, flavorful old vine Zinfandel which regularly receives 90 points or more from Robert Parker and Wine Enthusiast. The 2014 is chock full of bold fruit flavors: blueberry, blackberry, raisin and plum, but balanced by flavors of coffee, leather, and spice, with a dry dark chocolate and cinnamon finish. This is decadent wine that would be perfect for Valentine's Day, or any day, and is quite a bargain at $13.99 at the Party Source.
---
On my five cork scale based on taste and value, I give the 2014 7 Deadly Zins 4 corks! (To be exact, 3.8 corks, but I rounded up.) Serve it at your next party, and I guarantee your guests will love it.
If you'd like to try interesting wines like this, please join me at our next private wine party at The Party Source! I host a wine dinner there every month with sommelier and wine manager Steve Tartaglia, and we feature several interesting wines, paired with a delicious catered dinner from Kate's Catering and Personal Chef Services. There are always cool prizes to win, too, so listen Wednesday at 4:15 to win your spot on the guest list, or click here for a chance to win!