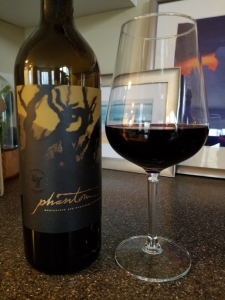 I tried Bogle Phantom once before a few years back, and wasn't wild about it. The 2013 blend was recommended, however, so I decided to give it another shot. I'm glad I did – this is a nice wine!
This is an appropriate wine to review, given the season, and would be a great wine to bring to a Halloween party. Not much in the way of aroma here, but Phantom was very interesting to taste with lots of spicy black fruit, including blackberry and stewed plums, with a touch of spice, not to mention subtle vanilla and underlying licorice flavors. This was a delicious blend of mostly Zinfandel and Petite Sirah, with Cabernet Sauvignon, and a touch of Mourvedre.
If you're looking for a tasty red blend available just about everywhere at a reasonable price, consider Phantom, which received 92 points and won the Wine Enthusiast Editor's Choice award! Less than 15% alcohol, and around $18 a bottle.
---
On my five-cork scale based on taste and value, the 2013 Phantom from Bogle Winery gets 3.75 corks!
If you'd like to try interesting wines like this, please join me at our next private wine party at The Party Source! I host a wine dinner there every month with sommelier Steve Tartaglia, and we feature several interesting wines, paired with a delicious catered dinner from Kate's Catering and Personal Chef Services. There are always cool prizes to win, too, so listen Wednesday at 4:15 to win your spot on the guest list, or click here for a chance to win!