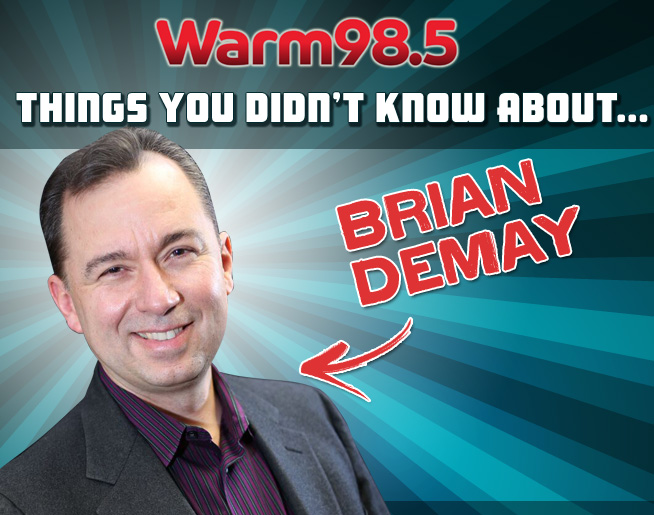 I have never…flown first class. It is on my list! Someday.
When I grew up, I wanted to be…a song writer. I realized early that there were many more talented people than I working at this (many of which I play on Warm 98.5!)
My favorite spot in Cincinnati is…Smale Riverfront Park. I take everyone who visits down there. I also love Oakley Wines.
I am active with…the Alzheimer's Association. I hope someday no one has to suffer the devastating effects of Alzheimers or dementia in their, or their parent's lives.
I know every word to every song by…the Beatles. The first album my parents bought me was Meet The Beatles, and it grew from there. It was required listening in the Demay house.
I have a weak spot for…dogs. My wife and I have two rescue dogs now, but we always risk adopting another every time we see one in need! All doggies should have a home.
My favorite Halloween costume is…Yoda. It's ridiculous to see a 6" Yoda walking around, but if you do, it's me.
I like to binge watch…"Game Of Thrones." I can't get enough of that show.
My favorite meal would have to be…steak and potatoes. Although you can't go wrong with chicken parmesan. Or thin crust pepperoni pizza. I like food!
My celebrity crush is…Olivia Munn. My wife is aware, and is rolling her eyes at this right now….
In high school, I competed in…tennis, golf, and track, but I was really a band geek. I played jazz trombone all the way through college.
My favorite drink is…a nice red wine from Napa. Wine is my thing.
With more time, I'd love to….visit Europe. My mom is from Bavaria, and I'd love to see her hometown again. I'd also love to see Tuscany, Paris, London…when do we leave?
My happy place is…hanging at home with my wife and friends talking, sharing a nice bottle of Cabernet Sauvignon.
My hometown is…Oscoda, Michigan. I spent a lot of time on the beach with my brothers on the northern shores of Lake Huron.
I was lucky enough to…see David Gray perform "Babylon" acoustic in a vineyard in Napa, while yellow leaves gently fell from the trees enveloping the stage. It was magic.
I am an expert at…Scrabble. I will beat you. I also know a thing or two about wine. Listen to my "Wine Wednesday" review this week at 4:15pm!
My most memorable accomplishment…raising two amazing kids. They are my pride and joy.
The strangest thing I ever did was….deliver a litter of kittens from the walls of my childhood home. A mom cat got up into our attic and had kittens, which then slipped down behind the drywall. My dad had to cut a hole in the wall, from which 7 kittens emerged. It has become Demay lore.
The thing about me you probably would never guess is…I was a stutterer as a child! I was in speech therapy during elementary school, and one of things they had me do was talk in a microphone while listening to my voice in headphones. It taught me then to slow down, be more deliberate with my words, and be more aware of what I was saying. Rather ironic that today I put on headphones and speak into a microphone for a living!