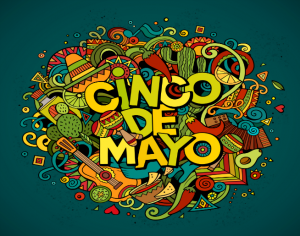 In the Demay house, we call it Cinco Demay-o. But I digress.
There are plenty of misconceptions about Cinco de Mayo in America. Please note: it is NOT Mexican Independence Day, and it's actually bigger in the U.S. than it is in Mexico. So, what exactly is the historical significance of May 5th?
Cinco de Mayo commemorates the day in 1862 when the Mexican army, under the leadership of General Ignacio Zaragoza, conquered the French forces of Napoleon III at the Battle of Puebla. The victory provided a significant morale boost to the Mexican people, and came to serve as a symbol of the country's spirit and perseverance.
The Battle of Puebla pitted 2,000 Mexican troops against 6,000 French. At the end of the day, almost 500 French soldiers were killed while Mexican forces lost less than 100 men.
Cinco de Mayo – which literally translates to "May 5" – is not Mexican Independence Day, which is celebrated on Sept. 16, and marks the start of the war of Mexican independence from Spain.
In the U.S., Cinco de Mayo celebrations were first held in California in the 1860s, marked among the hundreds of Mexican miners who had crossed the border to work in the west. The celebration spread as Hispanic culture grew in the U.S., getting a commercial boost in the 1980s when restaurants and bars began cashing in on the event.