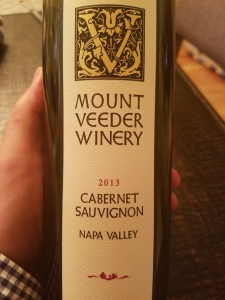 On a trip to Napa several years ago, I had two Cabernets from the same vineyard, that tasted completely different. Both were very good, but one had a much more interesting flavor, with layers of fruit, spice, and tremendous aroma. I was shocked when I found out that the grape for both wines was the same, the vineyard was the same, they were harvested in the same year, and were made by the same winemaker in exactly the same way, with the same oak treatment.
What was the difference?
The better wine came from grapevines that were on a steep hill. The soil was rockier, the vines had to dig deeper for water, and work harder than the vines in the valley below. It was this stressing of the vines which produced a much better wine. Isn't that interesting?
Mount Veeder Winery has made this technique their hallmark, with all vines planted on rugged slopes at between 1,000 and 1,600 feet. Their 2015 Mount Veeder Cabernet Sauvignon is different than many "big" Napa Cabs, in that it doesn't come at you right out of the bottle with huge in-your-face flavors. It does have robust aromas of bell pepper, leather, dark cherry and tobacco, but more subtle fruit flavors, which I really enjoyed. More savory layered fruit, blueberry first, and then blackberry, followed by a spicy tobacco, coffee and an earthy pepper finish. The 2015 is a blend of mostly Cabernet Sauvignon (82%), with 10% Merlot, 3% Petit Verdot, and the rest being Malbec, Cabernet Franc, and Syrah, all of which was brought up in French oak.
This wine is one to drink with friends and a nice steak, as you discuss philosophy and the meaning of life. The layered flavors will be yours to discover and explore, whether you drink it now, or a year from now.
---
On my five-cork scale based on taste and value, I give the 2015 Mount Veeder Cabernet Sauvignon 3.75 corks! The taste is certainly there, but this is a special occasion wine, at about $30 a bottle, so I had to drop the rating a bit. Show your friends how much they mean to you when you bring out this bottle. After all, James Suckling gave it 93 points!
If you'd like to try interesting wines like this, please join me at our next private wine party at Ferrari's Little Italy! I host a wine dinner there every month, and we feature several interesting wines, each paired with a delicious course. There are always cool prizes to win, too, so listen Wednesday at 4:15 to win your spot on the guest list, or click here for a chance to win!