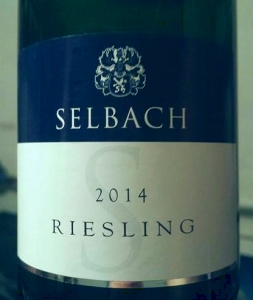 This week's feature is the 2014 Selbach Riesling. Whenever possible, I like to try wine from regions that are known for that wine. For example, you can't beat Cabernet Sauvignon from Napa or Bordeaux. Burgundy and Oregon's Willamette Valley consistently produce top quality Pinot Noir, and there are no better Rieslings in the world than ones from Germany's Mosel River valley.
Something about the steep slate slopes of the Mosel brings astounding clarity of flavor to Riesling. Additionally, Selbach-Oster is not a huge conglomerate churning out millions of gallons of cheap wine every year. They can trace wine-growing in the
family back to the year 1660, and they grow only Riesling on 50 acres of steep, south-facing mountain slopes on the banks of the Mosel River. Riesling isn't just a flavor of the month: it's a vocation they have cultivated for more than 300 years!
Pull the cork and you'll smell apples and pears with subtle notes of citrus. Pour and enjoy crisp green apple flavors with a hint of lemon and honey. If you're new to German Riesling, look for one that says KABINETT on the label – these are perfectly balanced wines with a little sweetness, but also mouth-watering acidity and really remarkably complex flavors. Perfect for a hot summer day! This particular Riesling gets 90 points from Wine Spectator, and is very reasonably priced at around $15 a bottle.
---
On my five-cork scale based on taste and value, I give the 2014 Selbach Riesling 4 corks!
Note: Selbach also makes a Riesling called "Incline," which is pretty good too, but this one is much better. Look for the green bottle with the simple blue and white label (pictured above).
If you'd like to try interesting wines like this, please join me at our next private wine party at The Party Source! I host a wine dinner every month, featuring several interesting wines, paired with a delicious catered dinner. There are always cool prizes to win, too, so listen Wednesday at 4:15 to win your spot on the guest list, or click here for a chance to win!