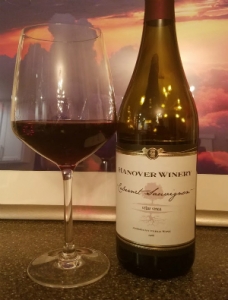 My interest in wine started after a visit to a local winery over 20 years ago. That initial behind-the-scenes visit sparked pilgrimages to every winery within a 100-mile radius of where I lived at that time. Since then, wherever I have moved, visiting the local wineries has always been one of the first things to do; and when the winemaker is there in-person, the visit is that much cooler.
That is what happened over the weekend when I popped in to Hanover Winery, on Morman Road in Hamilton, not far from where I live. Eddie McDonald, the co-owner and winemaker, walked into the tasting room and happily told my wife and I about the history of wine making in Ohio and Cincinnati, which before the Civil War was the center of the wine industry in America. (They didn't call it "Vine Street" for nothing!) It was educational to hear about the glaciated soil of Ohio, and how that contributes to the flavor of grapes grown here. We tried nine different wines, and two really stood out; one was a Tempranillo, which we sampled from the barrel. Sadly, that is not ready for bottling yet. The other was the Cabernet Sauvignon.
This was a very juicy Cab, with tart cherry flavor, some currant, toasty oak, and a softer cherry finish with some spice at the end. It tasted like a California wine, so I was not surprised to find that the juice for this Cabernet came from Lodi. This is a very well-made wine, without any manipulation or additives to take away from the true character of the grape. It's judiciously oaked, and might need a little aeration to allow the flavors to open up, but give it time and I know you'll enjoy it. You can find Hanover wines locally at Kroger, Jungle Jim's, and at the winery itself.
---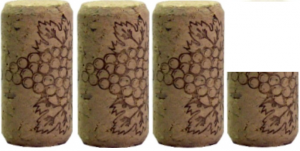 On my five cork scale based on taste and value the Hanover Winery Cabernet gets 3.5 stars. A very nice wine now, which will smooth out and only get better with age.
Hanover Winery is definitely worth the trip to Hamilton. Whether you're looking for serious wines like this Cab, crisp white wines, or even a sweeter fruit wine, I guarantee you'll find something there that you'll like.
If you'd like to try interesting wines like this, please join me at our next private wine party, coming soon! Every month I host a three-course wine dinner, featuring delicious wines expertly paired with small plate meals prepared by a master chef. There are always cool prizes, too, so listen Wednesday at 4:15 for more details.