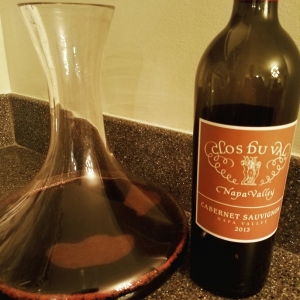 A wine from Napa Valley that gets 94 points or higher is generally going to set you back about $100, and possibly more. That's just how it is. You can find a lot of Napa wines rated around 90 points that are reasonably priced, but 94 and above is a supreme achievement, and is priced accordingly. This week's featured wine received 95 points from Vinous.com, and you can get it at Kroger for less than $35.
The wine in question is the 2013 Clos Du Val Cabernet Sauvignon. When I read Antonio Galloni's review I tried to find a bottle online, but it was sold out everywhere. I went to a boutique wine shop and found the 2012, but not the 2013. Imagine my surprise when I saw dozens of bottles at my local grocery store!
Comparing the 2012 Clos Du Val with the 2013 is like night and day! The 2012 is much fruitier, but with much less depth of flavor. Still quite good, but the 2013 Cabernet is a different animal entirely. Much oakier, for sure, as I noticed subtle aromas of pencil lead and currant, with a hint of leather. Then, extremely balanced flavors of black currant, blueberry and dark cherry, with a tingling spiciness throughout, followed by a deeper, softer cherry on a long finish. There's just enough acidity to make this age nicely for the next 5-10 years. The beauty of this wine is that the first glass will taste different than your last. There are subtle nuances of flavor that I didn't expect, particularly from a wine I can get at the grocery store for an unbelievable price!
---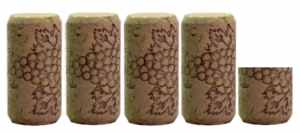 On my five-cork scale based on taste and value, I give the 2013 Clos Du Val Cabernet Sauvignon 4.5 corks!
It's a little expensive to drink every night, but I would encourage you to find yourself a bottle before the 2013 vintage disappears. You will thank me for the experience.